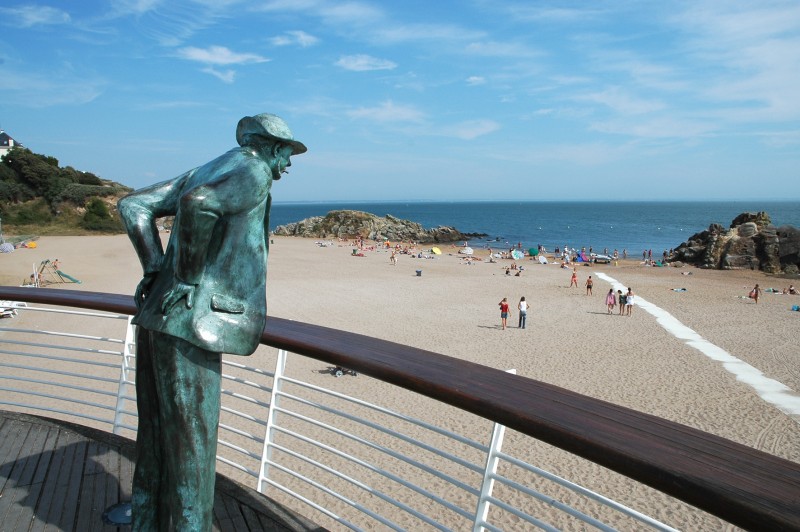 Located at the mouth of La Loire's estuary, Saint-Nazaire is completely edged by beaches facing out over the Atlantic Ocean…a
real
seaside town! Famous for its port, flagship of the naval industry, Escal'Atlantic, the submarine 'Espadon' and its museum 'l'écomusée…' all this and much more just waiting for you to discover the history of the town.
Situated as it is between the estuary and the Atlantic Ocean Saint-Nazaire is truly a town at 'the very water's edge'. With its population standing at almost 70 000 inhabitants (120 000 in the metropolitan area as a whole) this town has lots to offer whatever your 'passion' – cultural events/activities, shopping, leisure pursuits…
Facing as it does out over the ocean, with its recently upgraded seafront, many leisure activities linked to all things nautical are available, 20 beaches (two of which have the label 'Handiplage' – (accessible for visitors with reduced mobility) ; and its maritime port 'Port Atlantique Nantes Saint-Nazaire' the largest in France on the Atlantic coast.
The tourism offer, is managed locally by the public establishment of 'Saint-Nazaire Tourisme & Patrimoine', and focuses on the area of 'Ville-Port', the veritable heart of the destination. Tours and facilities are readily on hand to reveal to the visitors the fascinating history and development of this town forever etched in its maritime past:
Escal'Atlantic, tells the interesting tale of the transatlantic liners and their regular lines (a subject which is inextricably linked to Saint-Nazaire by virtue of its status as a major site for naval construction and former port for transatlantic crossings) ; this site is also holder of the national quality label of 'Qualité Tourisme' ;
The submarine Espadon, this French vessel dates back to the 1950s. It is moored in the fortified lock overlooking the port of Saint-Nazaire ;
L'Ecomusée the staff and the displays of this museum will tell you the interesting history of a town which was rebuilt twice in the space of a single century;
The boat trip 'Saint-Nazaire sur mer', discover this town viewed from the sea ! The very best way to admire it from every angle ;
There are also guided tours of the companies which give the visitor an insight into what has become of the founding industries of the town : its naval shipyard, the aeronautical construction giant and the port.
Over 2.6 million visitors have already discovered this offer.

Saint Nazaire, at the mouth of the estuary of La Loire