Guérande, the medieval one
Clinging to the edge of its granite plateau the breathtaking town of Guérande dominates and oversees its salt marshes at the source of its power in days gone by and its fame today. The town is proud bearer of the quality label of Ville d'Art et d' Histoire since 2004.
Video of Guerande in the middle age
The history of Guérande
In 1341, Duke Jean III died childless. Guérande thus became one of the stakes in the war of the Breton Succession. The city, the only one with a Breton heritage, was ransacked in 1342 by Penthièvre's troops who were fighting against the Montforts. Victorious, Jean de Montfort named Guérande as his diplomatic capital by ratifying, in the city's churches, two peace treaties that recognised him as Duke, under the name of Jean IV. In 1386, he even chose the small church in the village of Saillé, in the middle of the salt marshes, for the blessing of his marriage to Jeanne de Navarre, a union that
was the start of the last dynasty of the dukes of Brittany. Throughout the 14th and 15th centuries, the Montforts focused on improving the fortifications around their city, which were adapted to reflect the latest artillery developments.
The ramparts
Surrounded by moats, they are exceptionally well preserved and form a stone crown of appoximately 1,300 km, adorned with six towers and four gates... The largest of these fortified gates is the Saint-Michel Gate (Porte Saint-Michel), which opens up to the road that leads to Nantes. This monumental gate is a testament to the status of the city in the Middles ages and the power of the dukes who set up their representative there: the City Captain. One of the last Captains was the Guérandais Tristan de Carné, Lord of Crémeur. His recumbent figure can be seen lying in his armour inside the Saint-Aubin Collegiate Church. He was a member of the court of Anne of
Brittany, the last of the Montforts, who, as a young Duchess, came to his good city of Guérande looking for refuge within its walls.
The Saint-Aubin Collegiate Church
In the heart of the city, stands the tall slate bell tower of Saint-Aubin, which once served as a landmark for travelers who were lost in Presqu'île... Dedicated to its patron saint Aubin, the bishop of Angers, this church was founded in the early days of Guérande.
In 1840, recognised as part of the national heritage, the Collegiate of gothic style was on the first list of 1090 buildings in France classified as historic monuments under the leadership of Prosper Mérimée. Today, the Saint- Aubin Collegiate Church, at the center of the city's active life, is still a place of peace and contemplation appreciated by many worshipers and thousands of visitors.
Follow our guides !
You want to no more ?
Book your guided tour to discover the fortified city !

Our guided tours
Vidéo of Guérande
In french
Suggestions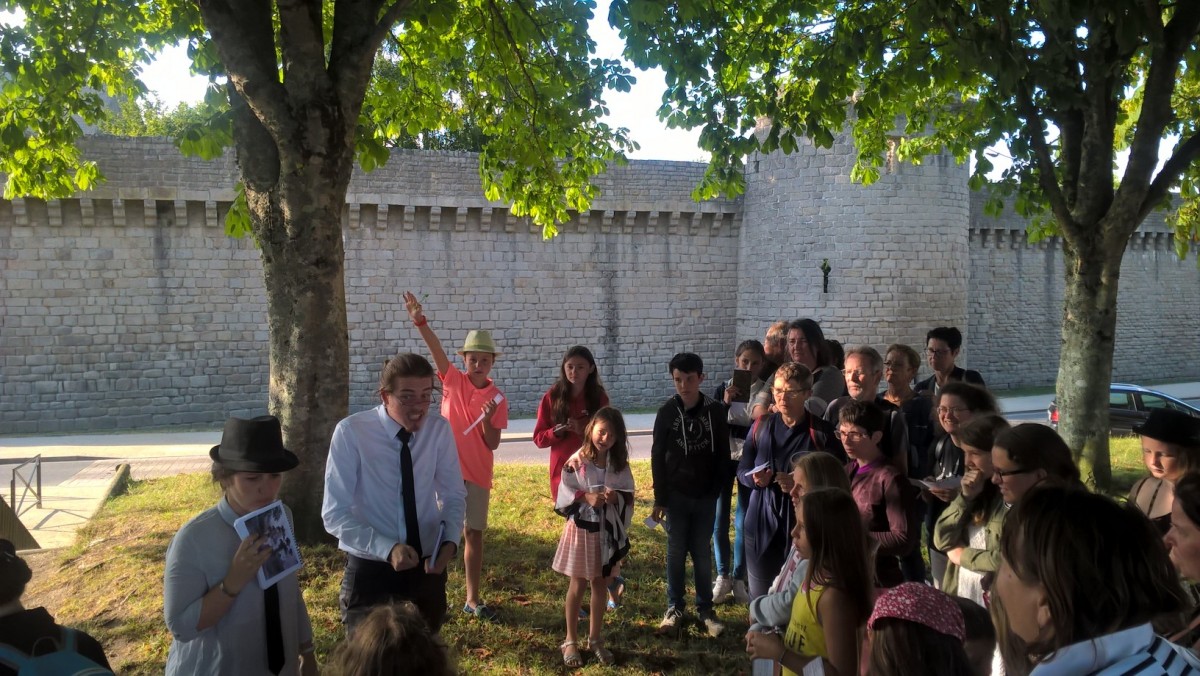 wp-20170712-19-22-40-pro-14952